Threats to Gay Bars following Orlando Massacre
Update: It's nearly been a year since the Pulse shooting massacre and we are still seeing gay clubs during big weekends not wanding people at the door. We were in a long line for a club named Southern Nights Tampa for Pride over the weekend and the wand that was supposed to be checking people for guns was sitting on a stool not being used. The next night we attended the Parliament house for their highly popular Sunday night T-Dance and there was no security checking anyone coming inside for weapons. How could a club in Orlando not be taking this more serious when it has not been one year since the Pulse tragedy. It's only a matter of time before something happens again.
On June 12, 2016, the deadliest mass shooting in America took the lives of 50 people and paralyzed or punctured 53 others at the Pulse Nightclub in Orlando. While our community has been pulling together after this horrific tragedy some been responding with threats. As Gaypartyblog.com published months ago warning of attacks like this it is even more imperative that we secure our gay nightclubs.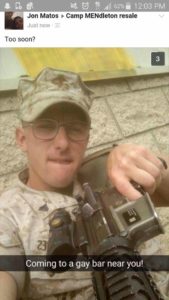 One active military member posted to a group called Camp MENdleton resale saying "Too Soon?" then pointing a gun with his finger on the trigger in which he is "Coming to a gay bar near you." We are not certain who this military service member is located or his actual name but it was a guy named Jon Matos who posted to the group. The founder of the group Michael Moss said "I am one of the founders of the group this was posted in and myself a member of the LGBT community. This post was deleted as soon as it was reported and the person was banned from the group immediately. We do not tolerate hate speech."
Action needs to be taken on this military member if he did in fact post this to his snapchat story or the group or both. One comment said "What if someone had made the same meme but wrote "coming to a church, school, theater, military base, etc near you" instead of gay bar? People are still mourning, some are still in hospitals fighting for their lives and you disrespect all of us because of a stupid joke. Would feel the need to post this if it was your family who was gunned down?"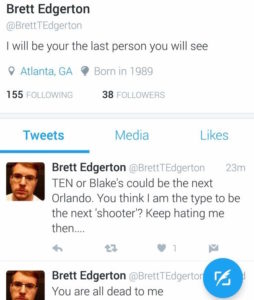 Another threat to fellow LGBT Americans came from Atlanta, Georgia where the Atlanta Police Department confirmed they are investigating a gay man who tweeted that he would make two local gay bars "the next Orlando." Brett Edgerton, going by the handle @BrettTEdgerton, tweeted the following: "TEN or Blake's could be the next Orlando. You think I am the type to be the next 'shooter'? Keep hating me then…"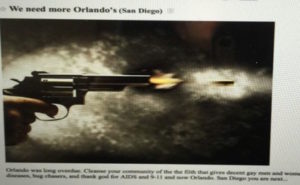 In addition, We have a threat coming from Craigslist in San Diego, California. Police are investigating this threat of violence to San Diego's LGBT community which read, "You're next." This came Tuesday evening when a 10News (local San Diego news) viewer saw the post in the M4M personal section of the Craigslist. He took a screenshot and sent it to the station before the post was flagged and removed. The post is titled, "We need more Orlando's (sic)." It is accompanied by a photo of a hand firing a revolver with a bullet coming out of the barrel.The M4M post read: "Orlando was long overdue. Cleanse your community of the filth that gives decent gay men and women a bad name. Those people were walking diseases, bug chasers, and thank god for AIDS and 9-11 and now Orlando. San Diego you are next…" The television station representative sent the screenshot to the San Diego Police Department and the FBI.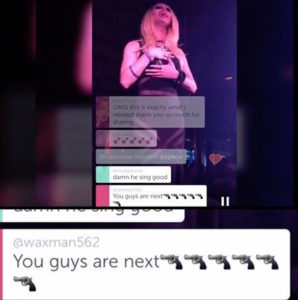 The 4th Threat is one on Periscope. Misty Violet was performing last night and she was broadcast live on periscope. One of the comments that came in during the broadcast was from @waxman562 who said "you guys are next" with emojis of guns behind it. We hope that someone turned waxman into the property authorities and flagged the comment.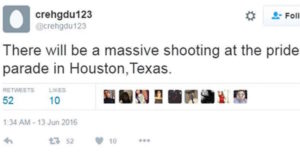 The Houston Police Department is currently investigating a threat made to the upcoming Pride parade, scheduled for June 25 in downtown Houston. The tweet from the now-deleted account @crehgdu123 reads "There will be a massive shooting at the pride parade in Houston, Texas."
HPD spokesman John Cannon said police are aware of the tweet and are investigating. Anyone with information about the owner of the account and any possible threats to the upcoming event is encouraged to call 911 or HPD at 714-884-3131.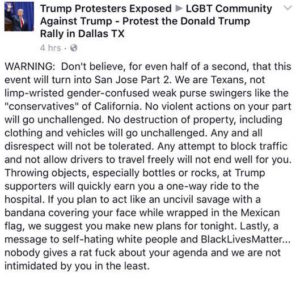 UPDATE: A Trump Rally is taking place June 16 in Dallas and there have also been threats against a LGBT group who will be protesting at the event at Gilly's Music Hall. Jim Giesige was the name attached to the non-photo facebook group that sent the threats to the LGBT group saying they basically better not try to yell or make any movements or block entrances when protesting or they will have consequences such as being ran over. He told one commenter that he should not even be "breathing" right now. Also commented that "Ye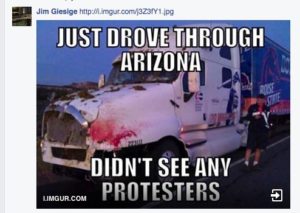 s I like YELLING CAPS. Here's more: RETURN TO YOUR SAFE SPACE." Jim Giesige went on to say to another commenter: "Oh YOU care, YOU MOST CERTAINLY CARE…. otherwise you'd stay the f**k home instead of trolling against free speech." Giesige's group also posted a truck with blood all over the hood where something had been ran over and killed in reference to people standing in the way to block Trump's rally.
As if we already do not have enough to worry about when it comes to gay rights we have threats coming from all angles, religions, races, and terrorist organizations. We will stay strong through this and nothing will stop me from going to Pride this year.