Oraquick Oral HIV Test Kit to use discreetly at home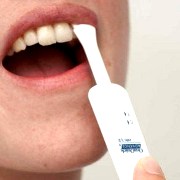 There is now in home HIV test. The FDA has approved the test it is called the OraQuick In- Home HIV Test available at Walmart, RiteAid, Walgreens, and CVS. For only $40. This is great news for those who do not want to have to go in to a doctor and worry for a week to wait for blood results.
If you have slept with multiple sexual partners it doesn't make you a bad person, it just means that you should be careful and get tested regularly. It's understandable that submitting to an HIV test can be embarrassing, but it falls under the category of better safe than sorry. Today we now have the option of taking an HIV test and sending it in by mail to avoid the embarrassment of going in to the clinic or doctor's office to be tested. The problem with this option is that it takes days to receive the test results. This is time that you spend at home scared and worried about what those results might be. What if you could take all the anxiety out of HIV testing, and do it from the privacy of your own home without the waiting? That question has finally been answered by the newly FDA approved OraQuick HIV home test kit.
OraQuick is based on the same HIV tests that doctors use. The test does not require a blood sample, just a simple swab of your gums which is completely painless. You only have to swab both your upper and lower gums one time each and place the swab in the test tube that comes with the kit. The test tube contains a special liquid that reacts with the oral fluid on the swab. When the oral fluid mixes with the liquid in the test tube it travels up the test stick and works much like a pregnancy test. The test stick shows a letter C and a letter T. If a dark line appears at the C, it simply means that the test is working. All you have to do is wait twenty minutes and the test is complete. If another line has appeared at the T that means that your test is positive. The test works by detecting any HIV-1 or HIV-2 antibodies that may be present in your oral fluid.

OraQuick is just as effective as the kits you have to send in for lab testing because it's made by OraSure Technologies, which is the same company that doctors use for their HIV testing. The results are just as accurate as other antibody tests that require blood. There is also the added benefit of not having to wait days or even weeks to obtain you results because you take care of everything at home on your own. Obtaining the test is easy. For complete privacy the Oraquick at home test can be purchased online from the OraQuick website. This way no one has to know you bought the test at all. For those that prefer it, the test can be purchased at your local pharmacy. These include: CVS, Walgreens, Rite Aid, and the Navarro Discount Pharmacy. Tests may also be purchased at Kroger and Walmart.
Estimates by the Center for Disease Control put the number of US citizens that are unaware that they even have HIV at approximately 250,000 with 1.2 million people already infected. At those odds it's a good idea to test yourself frequently if you engage in sex with multiple partners. Also, considering the ease of taking the OraQuick HIV in home test and the fast results it provides, it's a good idea to test potential sexual partners as well.