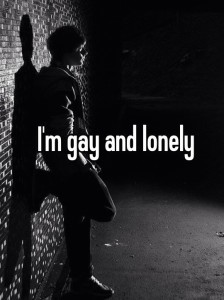 I know that I am sick of this sadness, loneliness, and the disconnection from others. Aren't you? What can we do to look at the man in the mirror like Michael Jackson said and make a change? First, we must recognize the problem at hand.
We would rather be socially-accepted than loved.
We spend too much time trying to be in the cool crowd. We are so obsessed with fitting in and being liked that we tend to ignore being loved by another. We'd rather sit at the cool table than hanging out with a man we really like by ourselves. We worry way too much about status doing things like Facebook posts and hoping for likes on our selfies to make us feel better. Also worry way too much about what others say about us.
Social media has killed intimacy
It's impossible to show our true identities when we're constantly hiding behind a Twitter, Facebook, Tumblr, Grindr page. While this medium allows us to connect it has rid us the ability to really get to know each another. Love is chemistry felt in reality not something that can be substituted.
We spend too much time waiting for Prince Charming
The perfect man who will rescue us but forgetting our Prince Charming is also waiting for someone to rescue him. Everyone wants to be rescued with a Disney fairy tale endings. Give some bait and hopefully someone will bite by throwing yourself out there instead of remaining silent. Life is too short.
We think love is supposed to come easy. It is a challenge for most of us.
Read more »