Rainbow Crosswalks Across The World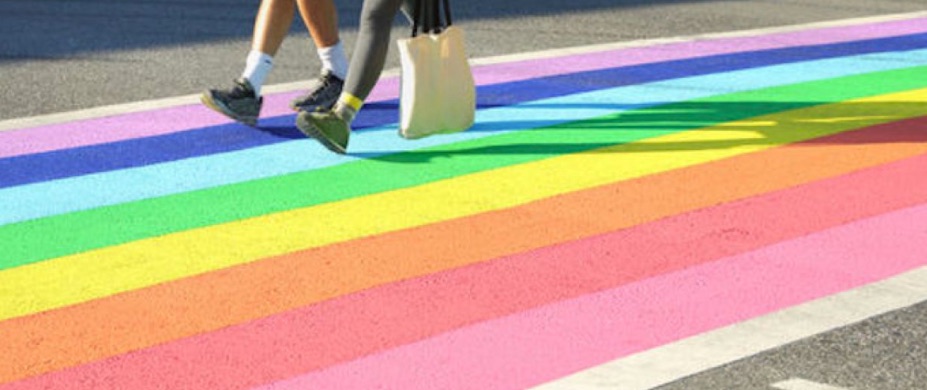 Who doesn't love to walk down a colorful rainbow carpet across the street? Whether you Swish Swish across the street or Sashay away you can find these destinations to feel fabulous. Most rainbow crosswalks are just temporary and taken down after a big event such as pride but we have put together a list of cities with a permanent show of colors.
Atlanta
Gays in Hotlanta are used to seeing headlines such as "Rainbow crosswalks for Atlanta Pride disappear from Midtown" but that is no longer. On June 12, exactly one year after the Pulse nightclub shooting in Orlando, Mayor Kasim Reed announced that the city would permanently maintain the rainbow intersection. "I cannot think of a more important time to reaffirm our unwavering and unqualified support for our LGBTQ residents," he said in a press release. "I believe that symbols of unity matter."
Houston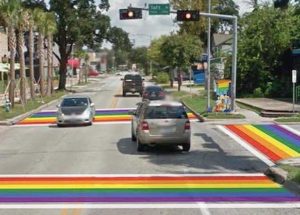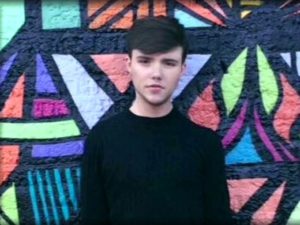 Houston was the latest city in the U.S. to install the crosswalks just in time for the 4th largest pride parade in the nation. The construction of the crosswalks are being paid for by Pride H
ouston at a cost of $15,000. Although these are temporary due to a construction project they plan to replace them in 2 years after completion of Houston's Lower Westheimer project.
The decision of the site of the crosswalks was chosen in memory of Alex Hill. He was a 21-yr old killed at that intersection by a by a hit-and-run driver this past January. You can go by there now and see a traffic box covered in a mural.
Key West
Permanent rainbow crosswalks arrived in Key West in 2015, at Duval and Petronia streets.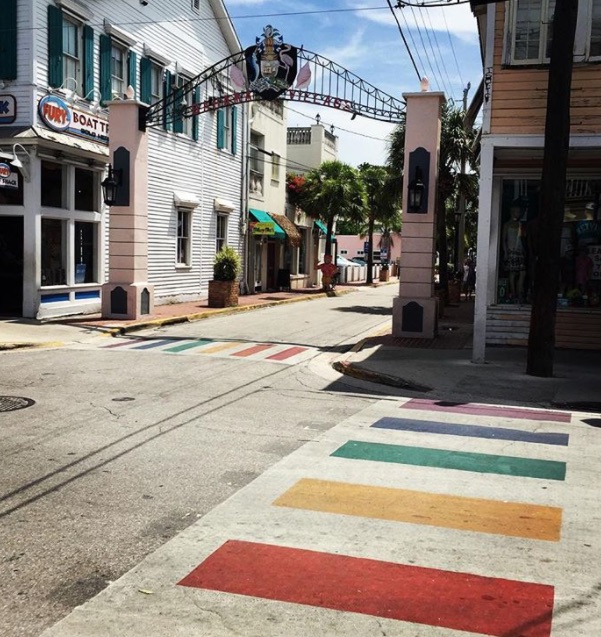 "Key West is very happy to be putting in the first thermoplastic permanent rainbow crosswalks in the state of Florida," said Mayor Craig Cates at the time. "It means so much to Key West to show our diversity, and also it goes perfectly with our 'One Human Family' motto."
Miami Beach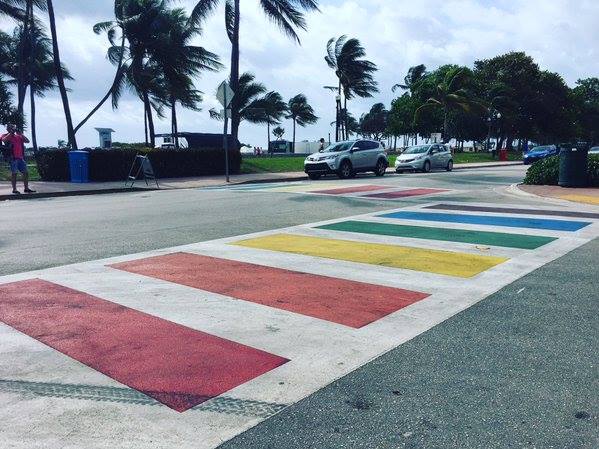 Miami Beach has its own proudly colorful crosswalks at Ocean Drive and 12th streets. Miami Beach's iconic Palace Bar, known for its drag shows on Ocean Drive for 30 years that is along the walk has recently shut its doors.
Long Beach
Rainbow crosswalks came to Long Beach, California in 2016.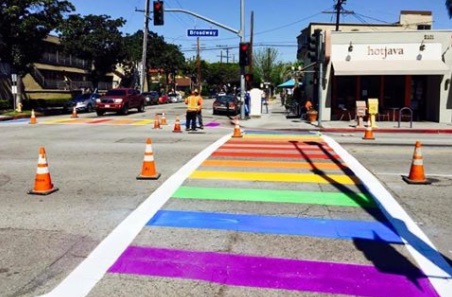 "These crosswalks are not only symbolic of our LGBTQ community, but symbolic of our pride in the community as a whole," said Vice Mayor Suja Lowenthal.
San Francisco
The historic LGBTQ neighborhood The Castro, in San Francisco, naturally has fabulous rainbow crosswalks adorning the streets. It came to the city as a permanent feature in 2014.
West Hollywood
One of the country's most iconic "gayborhoods," West Hollywood got its own rainbow crosswalks in 2012. They were originally going to be temporary, for Pride month, but the city decided to let them remain. L.A. Pride recently had their Pride March which was to resist the current state of politics against the LGBTQ nationwide.
Seattle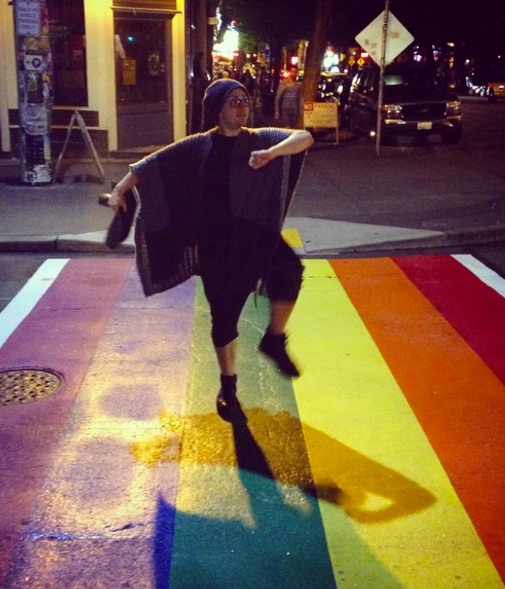 In 2015, Seattle unveiled 11 rainbow crosswalks in the LGBTQ-friendly Capitol Hill neighborhood.
The city pledged to maintain them for years to come. They, like all the rainbow crosswalks, are a favorite place to stop for photos, for both tourists and locals alike.
Philadelphia
The City of Brotherly Love has the rainbow painted at the intersection of 13th and Locust streets which marked the 50th anniversary of LGBTQ rights demonstrations (2015).
Toronto
Toronto's rainbow crosswalks were put down in time for WorldPride 2014. The city decided to allow them to be permanent, at Church and Alexander streets.
Vancouver
Another great Canadian city, Vancouver, painted their crosswalks in 2013, at the intersection of Davie and Bute streets. Coun. Tim Stevenson, who was the first openly-gay provincial cabinet minister in Canada, announced the crosswalks.
Ottawa
Mayor Jim Watson and Somerset Coun. Catherine McKenney unveiled the city's permanent rainbow crosswalks at the intersection of Bank Street and Somerset Street West in June 2016.
Distress Centre Ottawa, a 24/7 crisis helpline, tweeted that the crosswalks make Ottawa "a brighter place as we continue to learn & accept every form of love."
Swift Current
Saskatchewan got in on the act this year, with a crosswalk on the 200 block of Central Avenue in Swift Current.
"It's an important moment in history, that a small city in Saskatchewan was the first to install a Rainbow Crosswalk," said Andrea McCrimmon, chair of southwest Saskatchewan Pride, in a press release. "It very much speaks to the inclusive attitudes of our city, and it makes our community stronger."
Men At Work. Painting Soon?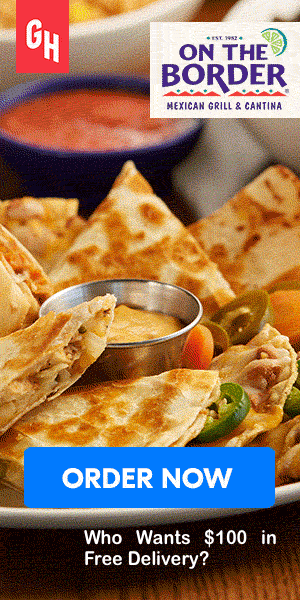 A small city in Canada named Lethbridge is getting both a permanent transgender pride flag crosswalk and a permanent rainbow crosswalk. They will be temporary at first, due to scheduled development in the area, but will later become permanent. There is also talk of a transgender cross walk in D.C. The Oaklawn gayborhood in Dallas may be getting crosswalks as people have started a petition and following crosswalk installs in their Uptown area that is not a pride flag. NYC is also a city that is missing a permanent crosswalk but a petition is out with over 4k signatures so maybe that will change.