Tattoo Artist of Aaron Rodgers in a Jockstrap Responded To Homophobes in the Best Way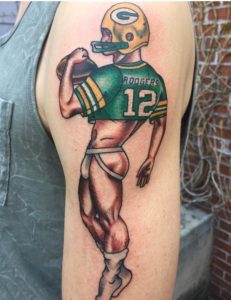 The Tattoo artist Alisha Rice shared on her Instagram page a tattoo that depicts Green Bay Packer Aaron Rodgers gripping a football while dressed in a crop top and jock strap. The caption on the post reads: "You aren't a #GreenBay fan, until you are an #AaronRodgers in a jockstrap pinup tattoo wearing fan."
Within minutes of posting the picture, Rice received an onslaught of homophobic responses.
"What I'm tarnation is this gay ass sh*t?" one person wrote. "Aaron should confiscate this gay guys arm," another person said.

The tattoo artist responded in the best way though.
I'd like to to thank the Internet and the bloggers that brought homophobic football fans and armchair tattoo critiques to my door. I am happy with the results and so is the client. You may not understand why someone would want a hunky football player tattoo, but tattooing is personal. This tattoo is a celebration of identity, home, and team. That's it! Hate and bigotry are not welcome here.
Follow the Tatted Traveler on Twitter!