It's Never Too Late To Find Your Own Lesbian Valentine
You may have looked around and watched many loving couples celebrating Valentines Day this year. Were you disgusted that you had to spend this special Holiday by yourself? Do you dread spending another Valentine's by yourself? You really ought to considering actually doing something about it! Lesbian online dating is easier and faster than ever, so the odds are if you start looking for someone right now, you'll have an exciting date with a new potential soulmate in time for your own holiday celebration.
Valentine's Day isn't just about chocolates, flowers and gifts – it has a deeper more intimate meaning for romantic couples who want to express their true love for each other. Having someone special in your life, worthy of that excitement and passionate about giving it back to you as good as they get it from you is what dating should be all about. That's where experts like Girlfriends Meet editor Julie Kanako can be very helpful with simple tips to turn next Valentine's day into a successful holiday.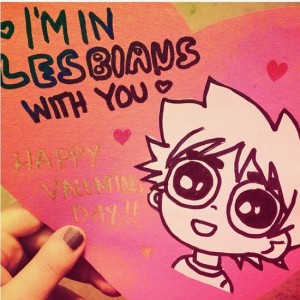 "What we want everyone to know is that being single isn't some kind of curse on Valentines Day" said Ms. Kanako "There are millions of single ladies online right now going through exactly the same kinds of apprehension that you might be feeling, and that shared emotional angst may actually be exactly the kind of common ground that a lasting lesbian romance is built upon. The mistake is to let yourself falsely believe you are the last single lesbian lady on Earth tonight, when in fact there are more people looking for love than there are who have found the committed relationship or casual encounter they seek. Keep your chin up, get online and don't block yourself from having a great time!'
As with any other aspect of internet activity, your online romantic prospects are exactly what YOU make of them. Taking a few minutes to create a completely free lesbian online dating site account and filling in the basic profile information is an excellent investment in your future. We all know it doesn't guarantee you'll find the love of your life that same day. The possibility does exist at the very least you'll be positioning yourself for a much more gratifying Holiday schedule in the months or years to come, alongside someone you can date with pride!