XY is Back! Gay Youth Now Have Their Own Magazine
XY Magazine is the gay teen publication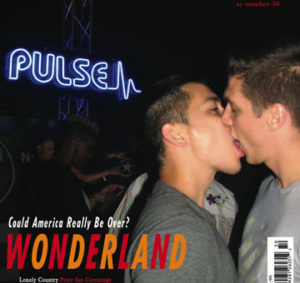 that was originally started by Peter Ian Cummings in San Francisco in 1996. You had to wait to get one of these and lucky if you did at your local bookstore four times a year for around 12 years. It was a fun magazine glossy with covers you could frame or pin on your wall as a teen growing up but also enjoy the articles, reviews, letters, and the homoerotic photos.
Keep in mind this was when the internet was really slow. They even had a website XY.com which is now a dot org site because they lost their .com in one of the shakeups. You could post personals on the XY site and meet people like yourself in a time that America didn't have Logo TV and Ru Paul's drag race. Some say that XY was a kind of gay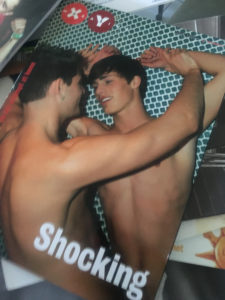 Seventeen magazine and actually sold in mainstream bookstores at a time when being gay was still highly stigmatized. Colton Haynes started out in XY magazine before he got his role in Teen Wolf and a heartthrob for the gays.
It's now been eight years and now XY is back. Issue 50, the 200-page "Wonderland" Issue comes out this month. The new XY team worked to get ownership back and reformed as XY Magazine Foundation, a low-profit limited liability company (L3C). The new XY hasn't strayed far from the original—it's got the same editorial staff, in fact. Articles in the new issue include "The Rise and Fall of Cruising," a look at a guaranteed living wage, and Mark Simpson on the Summer Olympics. You can also check out George Alvin or his other alias as a porn star Max Ryder wearing a strategically placed toy elephant.
You can read about the other times that XY Magazine has came back and back and back and back in our archives.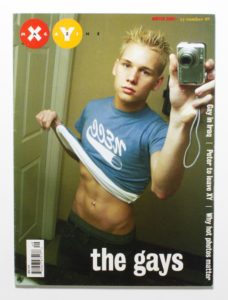 XY.com went offline in 2010, and sold for approximately $149,500 along with the the "XY" copyright to a Chinese game developer. This still amazes me that someone would sell a two character domain name for that cheap any of these names are now worth over 1 million. The media company I work with offered to buy it for more than that but they would not return our emails so they got ripped off by the Chinese.
Does anyone remember what XY stands for? Xy Generation. It actually does sound more appealing than the alien sounding term of millennials.