Ex-Boyfriend Easily Shuts Down Grindr Account As Grindr Risks People's Lives Asking for ID's Via Email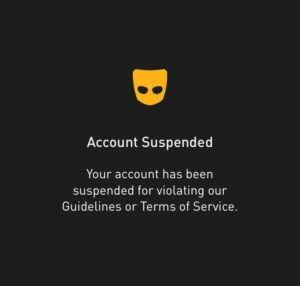 It looks like Grindr suspends accounts without any hesitation if someone reports you as underage. They could be 40 but if you turn that person in for being underage their account gets suspended. It also does not matter how long you have had that account. Grindr must think that someone paying to use their service for 5 years must have been 12 at the time or maybe 8 years old using someone else's credit card.
We emailed Grindr to ask about this and they had no reply so we will continue with our story. The jealous ex-boyfriend reported to Grindr an account that was easily able to verify that it was not a minor. How did they do it? They simply reported them as underage. Who knew it was so easy to shutdown someones Grindr account? Grindr will also not give you information as to who did it but the person claims the last person they spoke to was their ex which is highly suspicious. Then they saw them out and they bragged about it to others.
The person whose account was suspended emailed Grindr support who demanded their photo identification and their email address in a selfie taken to be sent to them. They said it was ok to blur out the id number. The big problem here is that anyone can deblur an image if you google how to do it. As many times as Grindr's servers have been hacked I do not advise you to do this. This is a major privacy breach.
Why you shouldn't blur sensitive information in photos
You've likely seen images with portions blurred out to protect text or numbers. Sensitive information such as credit card numbers or names on a document. It's not as secure as this might sound.
Many tech resources all agree that technology has come full circle and it's a bad idea. With a blurred check image example and a script, which he says is pretty trivial to create and apply anyone can see these numbers. Algorithms running through the blurred image pixels can compute the nearest-shape numbers or text characters. In essence, all you're doing when using simple mosaics to blur images is obscure the information but to completely remove the information it needs to be out of the photo. I've also seen software that does a really good job of undoing blurring on an image. That's an even easier way for someone to get to the information you're trying to hide by blurring.
Grindr does not want to spend money on a real way to verify I.D. such as Heineken or Budweiser use online. Marlboro also has a tight and secure back end. No puns intended. You can easily goto these sites and put in your information and they can check to see instantly that you're over 18 years of age or 21 years old. Grindr does not want to spend money on this system and instead wants to risk our security. They should not only be sued by our state, local, and federal governments for this but they should be mailing checks to existing subscribers because if they are taking shortcuts in this regard then what other security shortcuts are they taking.

LGBT in countries where being gay is illegal and face persecution could die in the name of Grindr security.
Questions we asked Grindr on this issue and have not yet heard a reply:
We feel this is dangerous asking people to send over identity information over email. Even if you blur out the id numbers hackers can still take out the layers and get the information they need. If you are going to do an ID verification I would suggest using a back-end similar to Heineken or Marlboro where you log into a secure site not sending data through email.

We would like to dig deeper into this issue as I feel it is a threat to the safety of the gay community. Is this an issue you are having over the entire network, people being selected by random, or a specific reason causing support to inquire? How many members of the community have you asked to send personal information over email? Also, Do you have ways to prevent information about your users from getting out to Russian hackers that have been very aggressive lately?
This is from a concerned person who travels around to cities where it is illegal to be gay. Sending in such sensitive information through email in the age of Russian hackers should be illegal itself. It's a huge security risk of someone's life at danger. They also had their Grindr Account since 2011 as a paid premium Grindr Xtra subscriber and the app support is accusing them of being a minor? This is outrageous.
Oh, and back to the ex-boyfriends and Rejected individuals who want to pay someone back. This works great for ex-boyfriends who want to shutdown someones account. It works for anyone you dislike in the gay community. Grindr does not mind who turns who in so let's all do it. If it's this easy to get someones account suspended then why not shut Grindr down and start giving money to Hornet or another app.
How it works:
1. Click The Block Button in the Top Right
2. Click Report
3. Type a minimum of 10 Characters. Yes, you could type "Douche Bag!" That is 10 characters and you will be on your way to having your ex, some guy who rejected you, someone who you think is ugly blocked from Grindr!
Who Owns Grindr? 60% China
Did you know the Chinese own most of Grindr? Zhou Yahui a Chinese billionaire bought a controlling stake in Grindr in January. A Chinese court has ordered in a recent divorce that Zhou Yahui will have to give his wife, Li Qiong, 300 million shares in his Beijing Kunlun World Wide Technology company, which have a value of $1.14 billion. He will retain 388 million shares. Zhou Yahui picked up what is rumored to be an 60% stake in Grindr for only $93 million.