Darren Criss stars in Glee's Shirtless Men Calender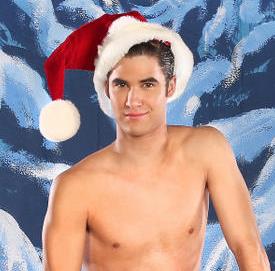 Even the naughtiest of us boys will have a Merry Christmas this year thanks to a tweet or shall I say a tweet from Ryan Murphy. Darren Criss is teased here in this Shirtless photo For Glee's "Men Of McKinley" Calendar. Who would you like to see shirtless in this calender filled with nerd, jock, and twink goodness?
Chris Colfer (Kurt), Cory Monteith (Finn), Matthew Morrison (Mr, Schuester, and Mark Salling (noah) will definitely have some hot shirtless photos. I would mostly pick Chord Overstreet to be one of the hottest jocks on the show and Kevin Michael who plays Artie is actually quite cute and might surprise you the most in such a calendar of males.