Revenge Porn And The Attack Of Hunter Moore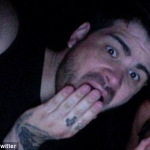 I don't care if it shows my age, I am willing to admit that I have been on the internet since way back when images took forever to load on the screen and the only way to find porn was to check out all the link lists and directories. Anyone else remember the world B.G (before Google)?
I really don't need to tell you that the internet has come a long way since then, but with the good always comes the bad. This is one of those posts all about what happens when the bad get their hands on technology and use it for evil.
No, I'm not talking about some kind of mysterious Bond villain in a hollow mountain threatening to end the world unless he's given "one million dollars" (how many of you just did the pinkie to lip gesture then? Sad people! lol), nor am I talking about pirates who stamp their feet about getting things for free and then complain that their favorite bands aren't touring anymore or their fave porn site shut down (useless idiots living in their moms basement).
I'm talking about lowlifes like Hunter Moore – the people who abuse the freedom the internet brings and use it to cash in on other peoples misery.
Yes, the lovely Hunter Moore will be the subject of this bile-infused post.
If you don't know who I'm talking about, he's the guy who created the site IsAnyoneUp.com, a disgusting place where people sent in images and videos of their ex boyfriends and girlfriends (or presumably just people they wanted to attack and had the ammunition to do so) and which then linked the media to their various profiles out on the internet. It was stalking, quite blatantly.
Victims had their intimate moments broadcast for all to see, with the information about them easily accessible. Many of those who were victims of this disgusting waste of skin then had abuse from others for daring to have their content stolen and distributed by someone else without their permission.
Now, I know some of the more liberal minded amongst you would be thinking "they should have expected something, who makes a pic or video and gives it out to others?" And I would agree with you to a point. But why is this any different to someone posting an email or personal letter on the internet for all to read? Would that be acceptable to you?
So, back to the story…
The disgusting Hunter Moore eventually gave up his little hellhole of a site and sold it to an anti-bullying charity, and some might have thought that would be the end of it.
Personally, I would have enjoyed seeing him sued, repeatedly, over and over again until he was having to sell organs in exchange for clothing. And it would have been nice to have all of his personal humiliation recorded and shared around the internet for all his little freaky fans to enjoy and wallow in too. But alas, that didn't happen.
Instead, he got away with it, and he made some money through the sale of the site and the estimated $20,000 a month through advertising – yeah, being a sick little pervert obviously is profitable for some.
But now, with the revelation that he's not happy with the money he's made humiliating others (presumably he wasted it all on pot, lube and tissues) and intends to start a new project where he plans to "introduce the mapping stuff so you can stalk people".
Yeah, that sounds like wholesome family fun, right?
No one knows how this might play out just yet. There are suggestions and discussions out there mentioning that he plans to add cell phone numbers, email addresses, employment details, home address and family details to his content in the future. Basically, it seems like he plans to do it all over again, but with even more information to allow others to attack and assault and generally humiliate people all around the world.
It's hard to know for sure how real that is, but Anonymous is taking it seriously, and has issued their own threat.
Yes, that lovely hacktivist collective famous for publicly trolling the cult of $cientology, taking down a paedophile ring that Interpol couldn't touch, exposing abusive NYPD officers macing girls in the street and – their lesser known – bitching about the Pirate Bay being taken down, have issued a direct threat to Hunter Moore.
Not happy with cyber-battling dictatorial regimes and supporting the freedom of the internet all around the world (I don't think any Anon's have full time jobs) they have picked up on the suggestion that Hunter Moore is about to be back in business and threatened war.
In a recent statement by the masked superheroes of the internet, the Anon collective made their intentions clear:
"We will protect anyone who is victimized by abuse of our internet, we will prevent the stalking, rape, and possible murders as by-product of his [Hunter Moore] sites.
It added: "Operation anti-bully. Operation hunt Hunter engaged. We are Anonymous, we are legion, we do not forgive, we do not forget, Hunter Moore, expect us."
To prove that the group is not one to make false threats, the Anonymous collective then published Hunter's address, and detailed numerous family members also.
So you wanna bully and attack innocent people Hunter? Looks like you're about to get a massive dose of your own medicine.