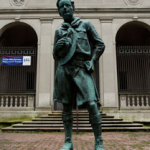 It's kind of ironic that the Boys Scouts of America motto happens to be "Be Prepared", because the way these freaks are teaching these kids those "troops" are gonna be anything but prepared for the realities of the world when they eventually go to college or otherwise manage to escape Shitsville USA (Population: 1000 Christian fundamentalists).
Here, let me explain…
The Boy Scouts of America is probably one of the largest organizations working with children on a voluntary basis in the U.S. and they've been at it for over 100 years. Everybody has heard of them and most people will know someone who is involved in one way or another. The organization is well supported with Barack Obama as its honorary president and ExonMobil and AT&T being major financial sponsors. Intel also donate to some of its 'troops'.
The Boy Scouts of America proudly declares on its website that they 'provide a program for young people that builds character, trains them in the responsibilities of participating citizenship and develops personal fitness.' They pride themselves on 'helping to build the Leaders of the country through combining educational activities and lifelong values with fun'. They also claim that over 100 years of experience gives them the belief that 'helping youth is a key to building a more conscientious, responsible and productive society.'
While this all looks good on the face of it, what are the principles the Boy Scout association actually stand by? Respect? Equality? Acceptance of others? You would be forgiven for thinking this is the case, but sadly there are troops within the organization that think the best way to teach the children of America to be a civilized and responsible member of society is to enforce the discriminatory rule which excludes anyone from the LGBT community from taking part in scouting activity, and this includes as a leader or volunteer.
The Boy Scouts of America seem to think that raising children in a segregated environment, away from people who are deemed different, is the way towards a more tolerant and accepting society.
Is this because the Boy Scout movement is based on Christian beliefs or is the government partly responsible? Considering the Military now accepts LBGT applicants I struggle to blame the government entirely.
There has been a case in Iowa, where a young gay man has been turned away by the Scout movement because of his sexual orientation and because of the fact that he was raised by a Lesbian couple. A committee set up by the Scouting organization was convened to make a decision as to whether or not this ruling would still stand.  They voted in favor of continuing a ban on the LBGT community, the supreme court also ruled in favor of the ban in 2000.
The Boy Scouts of America say that the subject of sexual orientation and adult relationships should be discussed as a family and within the family setting, they have a point (of sorts). Of course an open and honest discussion within the family is important, but how many parents are going to have the conversation with their kids and say 'It's ok to be gay'. I think that most parents wouldn't even consider this as an issue and some wouldn't necessarily accept it if it was. I don't see how having someone who is gay within a Scout troop would cause any problems with this anyway, not unless they are going to start handing out labels along with their badges for homophobia.
In a multicultural and diverse society this should not be allowed to continue, it is morally and ethically wrong on so many levels. How can the Scouting movement teach children to be a responsible member of society, when they are clearly saying that anyone within the LBGT community is a second rate citizen?
They claim that being gay goes against the Scout Law, it doesn't. Discrimination and bigotry goes against the Scout Law, and American law, and this needs to change. In England the discrimination laws are there for everybody and no organization is exempt from this.
The Boy Scouts of America should be at risk of losing their support from sponsors until they change their stance on this and it looks like it might happen. Intel currently support individual troops of Scouts where their employees volunteer but, due to their policy on equality they refuse to support any troop which upholds the anti gay rule. While this may be just a small step towards progress, the CEO of AT&T is also against the rule and is reportedly due to take over as president of AT&T in 2014, this could mean they withdraw funding at that time unless things change.
Although this might make a difference in a small way, I think the only way any major change is going to happen is if everybody joins hands and says this is not acceptable.
If you have a motivated bone in your body, contact any one of the number of sponsors and inform them of your opinion. If you're a customer, you might want to tell those supporting the Boy Scouts of America that you prefer not to support a company facilitating homophobia. There are plenty of competitors out there, can AT&T really afford to lose customers because they support an intolerant organization?